Our hotel arranged reservations for the Uffizi Gallery at 8:15 (my request) so we wandered over toward Piazza della Signoria a little early to "beat the rush." Ha. There were about 6 people waiting so we ignored our reservation (saving the 6 extra euros) and just bought the regular tickets. We started up the 4 big flights of stairs to the museum level. There was art everywhere! The stairs and halls are lined with statues, portraits encircle the hall at ceiling level, every nook and cranny is stuffed with some treasure. I joked to Wayne that whichever Medici peon was responsible for displaying the art groaned every time they brought home a new piece. "Another bust?? Oh hell, stick it above that window."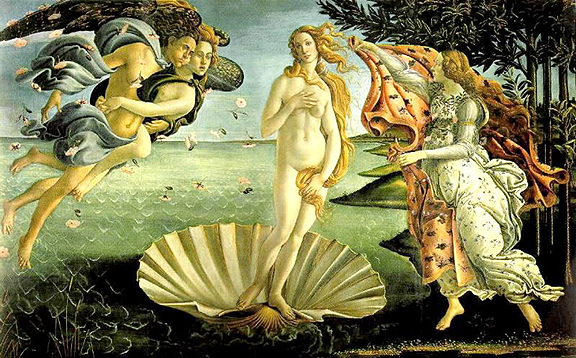 We followed
Rick Steves'
tour through the gallery. Got a few chuckles at his descriptions and we were glad we didn't bother with the museum's audio guide. We/I really enjoyed the progression of art from the Middle Ages (where painting a crucifix in 3 dimensions meant you painted it flat then tilted part forward) to more realism, perspective & beauty in the Renaissance. The primo holdings were several large Botticelli's ("bottled-jellos", per Wayne). We sat for a while admiring these. Through a few more rooms there were daVinci, Michelangelo, Rubens and Titian pieces. We liked RS's comparison of the chaste beauty of Boticelli's women to the lurid, centerfold-style woman by Titian. It's hard to imagine in today's world how shocking some of this stuff was when it appeared.
We strolled up to the
San Lorenzo
street market and checked out the goods. I wanted to get Wayne the apron with the David printed on the front but he refused. I think he was nervous that a little band of gypsy kids would swarm us any moment, so we moved on. We indulged in so caffe latte and ciccolata at
Bar Ginori
and decided to check out the crowd at Galleria dell'Accademia, a.k.a. home of The David. Our reservations weren't until the afternoon but since the crowd was light we went on in. David is the star of the museum but I really liked the "
Prisoners
" pieces - sculptures that look like bodies trying to break free from their stone. We rounded out the afternoon with some shopping at the smaller Mercato Nuovo. Wayne found 10 (!) new ties and I indulged in a gorgeous green leather tote. Quite a nice day for the arrivederci to Florence.